Get Connected with Parkway Baptist!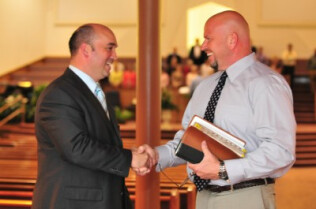 As the Senior Pastor of Parkway Baptist, I want you to know how thrilled I am that you are considering Parkway as your church home. After the decision to place your faith in Jesus Christ, making the commitment to be involved in a local church is the next obedient step of faith. This step of faith will be a beneficial experience for you and your church family! If you have been attending the worship services of Parkway Baptist, you have witnessed the fact that God is blessing us. I believe this is a result of our sincere attempt to be a God-honoring church, where the Word is faithfully taught, and the spiritual needs of God's people are being met. Understand that membership is not just a way of "adding people" to our Church. The last thing I want to see is for you to become a part of our Parkway family and then fade into inactive anonymity. My desire is for each member to become active, and connect with the members and ministry of Parkway Baptist. Why do I want you to become an "active" member? I believe people successfully grow in their relationship with Christ when they are serving God together. Serving God with others of like passions is a positive and rewarding experience.
I, along with the entire church staff, sincerely desire to support you on your spiritual journey with the Lord. My fervent prayer is that as you join hands with the Body of Christ at Parkway Baptist, you will find fulfillment in making the nations glad in the goodness of God.
Missional Until He Comes,
Dr. David L. Sampson
Senior Pastor
Psalms 96:3
Membership Procedures:
• Contact the office to set up an appointment with the Pastor.

• During the meeting, the Pastor will answer any of your questions concerning Parkway Baptist ministries.

• The Pastor will also assist you in one of following three ways to become a member of Parkway Baptist:
1. By Baptism
2. By Transfer of Letter from Your Previous Church
3. By Statement of Faith