Mentor MINISTRY
The word mentor is a word that is often heard in our culture. However, where did the term originate? According to one writer, THE TERM MENTOR ORIGINATED in the Odyssey, an epic poem written by the Greek poet Homer. It was told that when the Greek warrior Odysseus went off to fight in the Trojan War, he left his young son Telemachus in the care of a trusted guardian named Mentor. The siege of Troy lasted ten years, and it took Odysseus several years to make his way home. Upon his return, he found that his son Telemachus had grown into a man under Mentor's wise tutelage.[1]
Based on the story above, we now speak of a mentor as someone who fundamentally impacts and influences the development of another through a significant relationship.
Mentors often get into mentoring relationships for what they can contribute to the development of others. They soon discover that mentoring is a two-way street that involves both giving and receiving. Reading, discussing, and exploring ideas and concepts together has a broadening affect on the mentor and the mentee.
Our mentor ministry works towards a unified effort of schools, business, and community to promote and support student success. Along with our Parkway mentors, we encourage the business and civic community to become an integral part of helping schools prepare students for life.
Partnership Award 2012-2017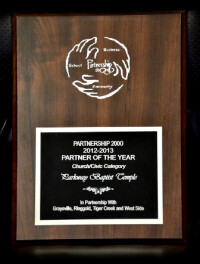 Parkway Baptist was presented The Catoosa County Partnership Church Award for the past several years. Our ministry provided mentors, schools supplies, and various needs to help students achieve their educational goals. We are privileged to volunteer and partner with our schools to make our community the very best it can be.
If you are a member of Parkway Baptist and would like to take part in reaching out to students in need, email me at the address listed above. I will be sure that you will get the information and training you need.
---
[1] Anthony, M. J., & Estep, J., Jr. (2005). Management Essentials for Christian Ministries (313). Nashville, TN: Broadman & Holman Publishers.