Dorcas Director: Alicia Edwards
Proverbs 31:25 Strength and honour are her clothing; and she shall rejoice in time to come.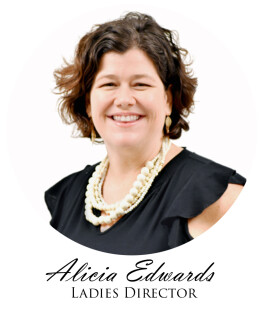 You Are Invited!
Welcome to Parkway Baptist's Women's Ministry page. We like to call this ministry the Dorcas Ministry because Dorcas was a woman who was a biblical leader in the early church (Cf. Acts 9:36,39). She was full of good works and spent her life in acts of kindness and charity. Her soul was full of love for God and others, and her whole time was filled up with works of piety and mercy.
Missional Purpose:
We believe that the Dorcas ministry is designed for every woman; no matter what one's age or stage in life. Our ladies meet once a month for Bible study, fellowship, encouragement, and prayer support of women-related issues. Bible studies have been planned with your needs in mind. Parkway's women's ministry wants you to be encouraged by finding friends with whom you can share, being enriched, and fully equipped, by studying and applying God's Word to your life and the life of your family.

It is the Dorcas Ministry's heartfelt prayer that women come to know Christ as their personal Lord and Savior, mature in their walk with the Lord, and desire to use their gifts and talents in service to Him and others.

If you would like to be a part of this circle of fellowship, please contact us @ 706-866-0325.