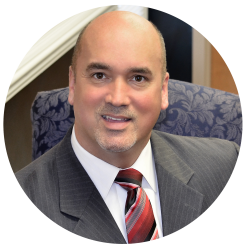 In January of 2000, as the world was preparing for Y2K, Dr. Sampson was preparing to move his family from Northwest Indiana to join our pastoral team as our Associate Pastor. In October of 2003, the church extended the position of the pastor, and the Lord placed Dr. Sampson as the new Senior Pastor of Parkway Baptist.
For the past 20 years, Dr. Sampson has led Parkway Baptist to be "On Mission with God" both locally and globally. He is committed to serving our community and the needs of the church. His ministry stretches beyond the pulpit into the field of writing. He is the author of four books and has also written several published songs.
Dr. Sampson earned his Doctorate in Theology from Andersonville Theological Seminary and a Bachelor of Theology and a Masters of Pastoral Theology from Liberty University.
Dr. Sampson has been married to the love of his life, Melissa, since August 17, 1991. God has blessed them with three beautiful children and has added the blessing of grandchildren to their life.