Directors: Tommy and Leslie Gilbert
II Timothy 2:15 Study to shew thyself approved unto God, a workman that needeth not be ashamed, rightly dividing the word of truth.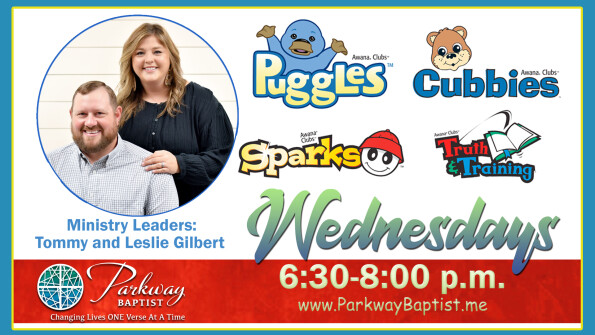 Our Missional Purpose:
Get ready for an incredible adventure at Awana at Parkway, where fun and fellowship meet spiritual growth! We are thrilled to offer a space where your child can experience the joy of community and the deep love of God, all while developing a strong foundation of service to the Lord Jesus Christ. Expect laughter, learning, and life-changing moments as we embark on this exciting journey together!
Our Mission:
We are overjoyed and passionately committed to spreading the good news of Jesus Christ and nurturing the faith of children for the magnificent glory of Christ!
Schedule and Start Times:
The Awana program runs throughout the school year. We begin club in August and run the program through May. Club time is 6:30 - 8:00 PM on Wednesday nights. All children are welcome. Call the church office for information at 706-866-0325.
Our AWANA is committed to glorifying God and serving Christ by:
Proclaim the gospel of Jesus Christ with clarity and urgency.
Commit to God's Word as our guide and standard.
Treat all people equally, as created and loved by God.
Maintain a servant's heart in all that we do.