Youth Pastor and His Wife:
Justin and Emily Williamson

Remember now thy Creator in the days of thy youth, while the evil days come not, nor the years draw nigh, when thou shalt say, I have no pleasure in them (Ecclesiastes 12:1).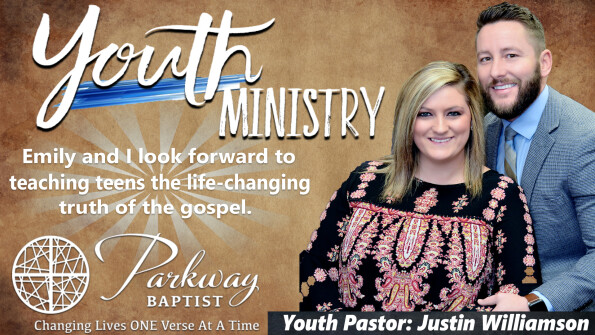 Start Time:
Make plans to attend Parkway Youth in the Upper Room every Sunday Night at 5:00-6:30 pm. and each Wednesday at 7:00 pm. Our Wednesday Night youth service is our biggest youth event of the week. We offer uplifting music, games that promote fellowship and team spirit, an exciting time of worship, and above all clear biblical teaching that is theologically driven and practical for today's teen.
Our Missional Purpose:
Here at Parkway Baptist, we believe that the Youth Group exists to train our young people to love God unashamedly, provide them with new and exciting forms of outreach, fellowship that will challenge them to exercise their spiritual gifts and strengthens their faith to become soul winners for Christ. Your teen will strengthen their relationship with God by establishing new relationships with others in the youth group they can relate with.
Upcoming Events and News:
Discipleship has started in small groups given by our youth leaders - Contact Justin to find you a group!
Sundays @ 5:00 PM and Wednesday @ 7:00 PM
with Parkway's Youth!